January 26 2018 - Australia Day Celebrations
Join in the Celebrations with a BBQ Breakfast at the Buronga Wetlands followed by Shire Awards ceremony at the Historic Port of Wentworth. Fun for the whole family with the Vintage Car Club on display.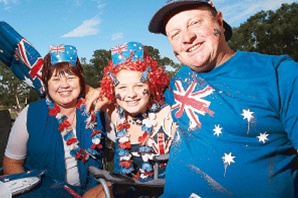 Jan - Feb 2018 -
Murray River International Music Festival
The Festival provides world class performances combined with master-classes and workshops. The artists perform in a variety of locations ranging from riverside settings to wineries, to arts venues in Mildura and Wentworth areas.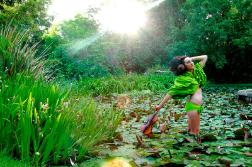 Feb 2018 - Big Screen Festival
The Big Screen Film Festival is coming to our region supported by the National Film & Sound Archive's.This year's films include: South Solitary (M), The Waiting City (M), The Tree (M), Red Hill (MA15+), Tomorrow When the War Began (M), Legend of the Guardians: The Owls of Ga'hoole (PG), Animal Kingdom (MA15+) , Summer Coda (M), The Man from Snowy River (PG) and opening night film A Heartbeat Away (PG)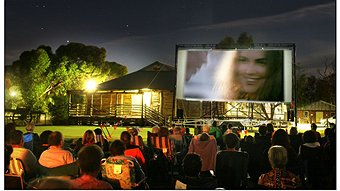 March 2018 -
Mildura Wentworth Arts Fes
tiva
l
This year's Festival brings to town a mix of performances and artists including; author, comedian, Theatre company, musicians, monks, big screen film festival, and of course the crowd favourite; Sunraysia Daily Mardi Gras Parade, Rivery Party and Fireworks.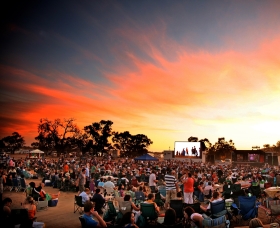 March 2018 - Wentworth Family Fishing Classic
Great Fishing on the banks of the Darling & Murray Rivers. Cash and prizes to be won.Trade Displays; Market Stalls; Kids Activities; Live Entertainment.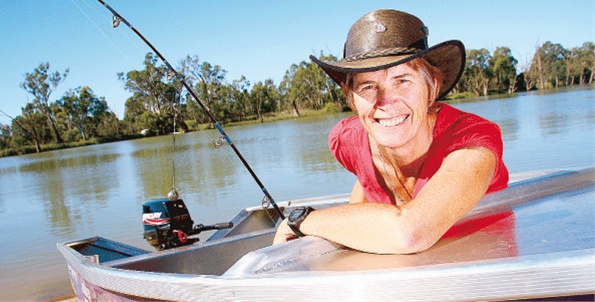 April - May 2018 - National Trust Heritage Festival
Join the National Trust in celebrating our unique heritage across Australia.

Easter Sunday 2018 - Junction Junk- Monster Garage Sale
Find the hidden treasures that await you as the township of Wentworth become one big garage sale.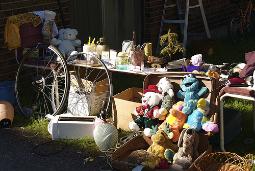 Easter 2018 - Henley on Darling Rowing Regatta
The annual Henley on Darling is held during Easter of each year. It is the main event in the calendar of the Rowing Club and comes near the end of the official Victorian rowing season. It is a very popular regatta among both Victorian and Interstate rowing clubs.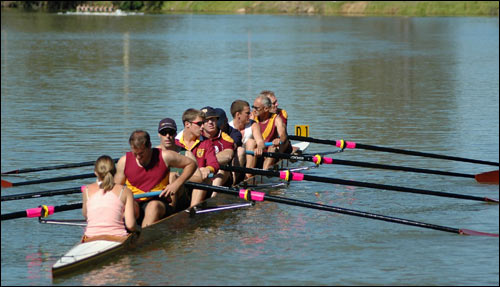 May 2019 - Pooncarie Field Day
The biennial Pooncarie Field Day, held at the racecourse near, the Darling River, has definitely made its mark. If you're interested in anything rural, then this is a day you won't want to miss.

There are a 100 plus exhibits on display including the latest sheep breeds and gleaming Utes. Demonstrations are held throughout the day, in which you can witness the skills of sheep dogs, or see goat dogs yard a mob of feral goats, watch machine and blade shearers in action and hear competitor whip cracking.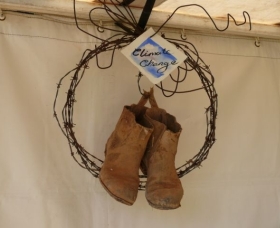 June - July 2018 - Wentworth Sweatbox Art Competition
The Wentworth Sweatbox Art and Furniture Competition - Each July Wentworth Arts runs an unconventional art prize that acknowledges the region's fruit-growing heritage. Artists are required to make furniture or sculpture using predominantly sweatboxes - pine or hardwood boxes used to transport dried fruit from the vineyard drying ground to the packing shed for processing.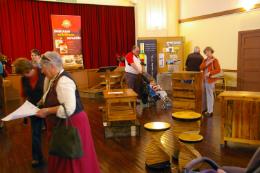 July 2021 - Great Australian Fergie Tractor Rally
The Wentworth Tractor Rally is held every five years to commemorate the role that the humble tractor played in saving the township of Wentworth (and many other towns on the Murray River) during the 1956 floods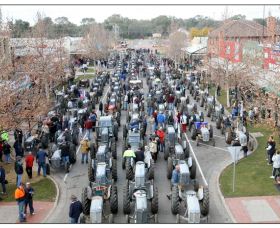 July 2020 - Junction Steam Rally
The Wentworth Junction Rally is held every three years.
Proudly presented by The Vintage Machinery Society Of Sunraysia and Rivers and Riverboat Historical and Preservation Society, the Junction Rally features vintage engines, paddleboats, steam engines, barges, vintage machinery, steam launches, heritage crafts, classic river boats, vintage tractors, vintage bikes, vintage cars, children's rides, food and drinks.
Come and join the Wentworth community for the weekend. There will be plenty of entertainment for people of all ages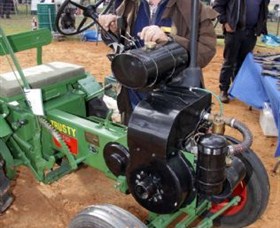 August 2017 - Rock'n Roll Festival
Wintersun is Australia's longest running Retro Nostalgia Festival featuring the cars, music and lifestyle mainly of the 1940's, 50's and 60's.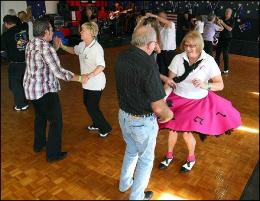 August 2017 - Wentworth Show
The Wentworth Show is one of the nation's few remaining authentic country shows and as such, the organisers pride themselves on an event that manages to retain its rustic, rural flavour while catering to an increasingly wide variety of tastes.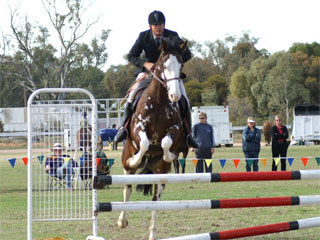 2017- Discover Wentworth Tourism Week
Operators will be opening their doors to locals for Discover Wentworth Tourism Week. With an industry Expo which coincides with the kick start the week; amazing "mate's rate" offers for locals from operators and great prizes to be won it is set to be one very exciting week for locals.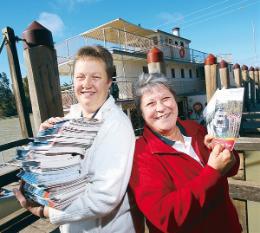 Sept - Oct 2017 - Country on Darling
Enjoy the sights and sounds of Country Music Australia, featuring a great line up of Country Music acts, in the heart of the country Victorian outback, along the banks of Darling and mighty Murray River.
The Country Music Festival is a celebration of our Australian Independent Country Music Artists, the Country Music Industry and great family entertainment.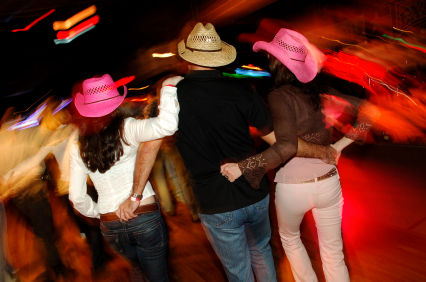 October 2017 - Pooncarie Cup
Come and enjoy a unique outback experience at the Pooncarie Cup Race Meeting

There are six races in all, entry includes a race book and everyone under 16 is free.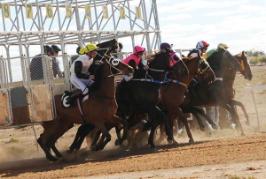 October 2017 - Jazz, Food & Wine Festival
Mildura Jazz, Food and Wine Festival

- One of Victoria's biggest jazz festivals can be heard each November at locations on and around the Murray River. Board a paddleboat, find a spot in a park or a seat in one of Mildura's popular eating and drinking establishments for an afternoon or evening of jazz entertainment.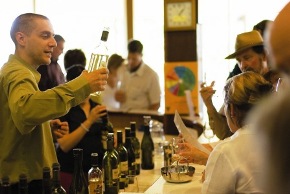 November 1 2017 - Wentworth Cup
Our one and only race meeting for the year is held on Melbourne Cup Day, the first Tuesday in November and droves of country and city folk come from near and far by plane, boat, 4 wheel drive and car, to enjoy the Sport of Kings with friends and family. In fact many make a long weekend out of it and enjoy our BIG DAY OUTBACK FESTIVAL, which starts on Saturday and finishes well after the last race on Tuesday.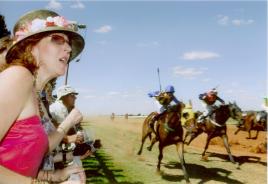 December 2017 - Community Christmas Carols
This is an annual event where the community are invited to come and enjoy an evening of carol singing and entertainment. We showcase performers from our local schools and community held this year in the Town Hall.
Proudly Sponsored by the Combined Churches of Wentworth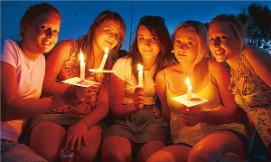 2014 Artic Design. Images, graphics and layout remain the property of Artic Design and can not be reproduce in any form unless supplied in original file format by and with approval of Artic Design. This is to strictly protect the branding for Wentworth Regional Tourism Inc. as designed by Artic Design. All Enquires and use of protected images and branding must be directed to Artic Design in writing to articdesign@bigpond.com